Closure wig vs Frontal wig: Which one Is Better?
Cristina
Wigs can enhance your appearance and work as an effective protective style for natural hair growth. They're excellent at covering up hair loss, bald spots, and thinning hair. You can alter your appearance while shielding your hair from the damaging effect of heat and styling tools by wearing a closure or frontal wig. You want to find a wig with a natural-looking hairline, but where do you even begin? Should you go for a lace closure wig, or would a frontal lace wig suit you better? What is most important is finding a wig that suits your preferences as well as your way of life.
Before you become overwhelmed by trying to figure out the differences between the two, we're here to help you break down "closure wig vs frontal wig," so you can understand how these hairpieces help you complete your look.
Closure wig vs frontal wig similarities
Closures and frontals are made to add hair to the top of a wig in a way that makes the hairline of a wig or installation look more natural. It's a piece of lace with hair hand-tied to it. They blend in with your skin, giving the illusion that your natural hair is growing from your scalp. Closures and frontals are a go-to style because they let you part your hair in several ways and flaunt a natural-looking hairline. You can even include baby hairs around the edges to give a realistic appearance.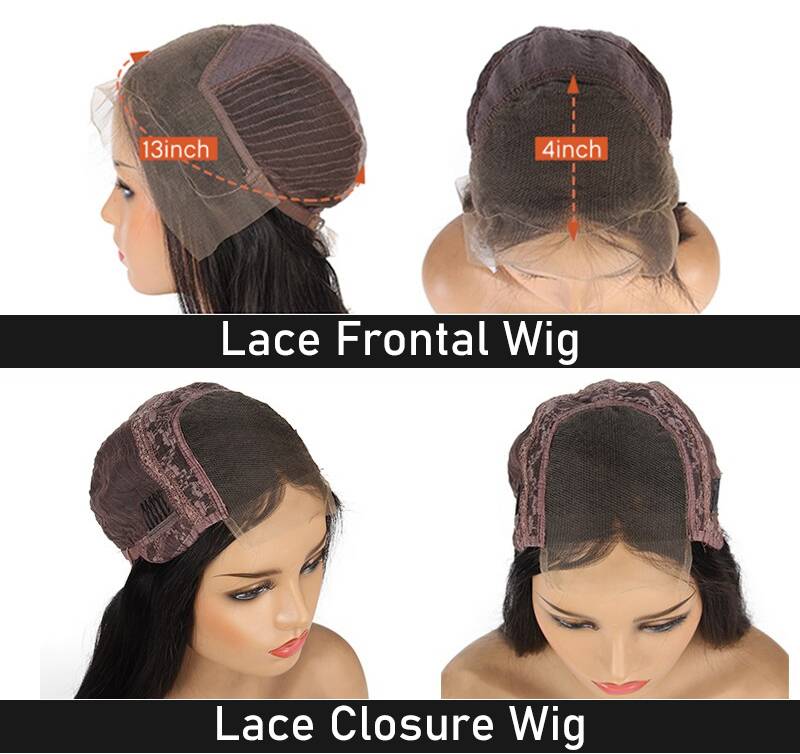 What is a frontal lace wig?
A frontal wig is made with a frontal, which is a strip of lace that runs from ear to ear. It's about 13 inches wide, and the hair covers four to six inches deep. The lace is there to blend your natural skin and hairline. The most common options in 2022 are transparent and HD lace.
Pros of wearing lace frontal wigs
One of the major advantages of a frontal wig is that it covers the entire front area of your head. It goes from ear to ear, so it covers your entire hairline. This gives you the freedom to style your hair like your own natural hair in any way you want. Like deep side parts, half-up ponytails, full ponytails, and messy buns. If you get bored with your look after a few days, you will probably do well with a frontal.
Regular sew-ins can cause considerable discomfort during warmer months. Lace frontal wigs are comfortable to wear on the head and allow constant airflow to your scalp and hair.
Cons of wearing lace frontal wigs
The first installation requires a lot of tweaking to achieve a natural look. To make it blend seamlessly with your skin, you might have to bleach the knots, tweeze, tint the lace, pluck or trim baby hairs, and install your wig correctly. Wearing a sew-in lace frontal extension often requires weekly upkeep and maintenance to achieve better results and a more natural look. However, if you don't want to go through all that styling, you should rock a lace frontal wig, which doesn't require as much work as sew-ins.
Lace frontals are quite expensive. It might take a worker about 40 hours to hand-tie a single 13×4 lace frontal, depending on her speed and the density. The minimum wage in China is around $2 per hour, meaning even without the cost of hair included, it would already cost $80 for the hand-tie work alone. The actual costs are hard to estimate but are usually a bit lower as manufacturers take shortcuts for more competitive prices. Some of these shortcuts are:
Only a 13×3 area on a 13×4 frontal actually has hair
Multiple hairs in one knot
The average weight of closures and frontals went down by 10-20 grams
Using hair of a lower quality
While some vendors might be able to give you cheaper options, be careful that you're not getting too many of these shortcuts.
Sew-in lace frontal wigs are usually installed using glue or lace tape. They last for a couple of weeks before requiring some maintenance. Not only can glue cause irritation to your scalp, If you accidentally apply glue to your hair, it can also damage your hairline or break off your edges. An alternative would be using a wig fix, adding an elastic band, and using some mousse to secure your ear tabs.
What is a closure wig?
A lace closure typically comes in 4×4, 5×5, 6×6, and 7×7, although the larger ones have become quite rare. They're similar to frontals, but instead of having a strip of scalp-like material that runs from ear to ear, you now have a square scalp space. They usually come in three-part, free-part, and middle-part, and the free part is the preferred option because of its versatility.
Pros of wearing closure wigs
Whether you're going for a sew-in or closure wig, they typically last longer than a closure with proper maintenance. Lace closure wigs are suited for warmer weather, as they don't require as much gluing and customizing as sew-in frontal wigs.
Closure wigs don't require a lot of experience to care for and maintain them. It's simply a matter of washing, conditioning, and styling it. You can take it off at the end of your day and put it back on the next day. Not having to wear your wig 24/7 causes less stress on the hair and makes it last longer.
The lace part of the lace closure is 4 inches by 4 inches or 5inches by 5inches. The lace area covers your forehead, making it possible to have a natural and beautiful hairline.
Cons of wearing closure wigs
You're limited to three styles with the three-part, free-part, or middle-part options. You can't pull it back into a ponytail as you can do with frontal wigs. So it's not an ideal option for women who love exploring different hairstyles.
Wearing wigs doesn't stop your hair from growing. If you wear a sew-in lace closure weave or wig, your growing hair tends to push it out of the way. This happens every four weeks and requires you to make several trips to your hairstylist.
What is the difference between a frontal wig and a closure wig?
Now, let's dive into the difference between lace frontal wigs and lace closure wigs.
Size
Closures can cover just a small area of your head, while frontals can cover your entire hairline. The standard size for closure is 4×4 inches and 13×4 inches for frontals.
Versatility
Unlike closures that need little maintenance, installing the frontal takes a lot of work to get an everyday look. Other things involved in a frontal wig include tinting, tweezing, plucking, and trimming your baby hairs.
Since frontals lose their glue quickly, they can serve you approximately 2-3 weeks. With proper upkeep, closures last longer, and you can readjust your wig every month. Also, closures require less gluing and customizing making them perfect for hot weather.
Cost
Frontals are more expensive as they come with more hair and a larger area of lace that needs to be hand-tied. Frontal wigs are basically half-done wigs that still require a lot of adjusting. On the other hand, Closures are cheaper because they are easy to maintain and realistic.
Closures can often be found in the $40-$120 range, while frontals typically go from $75-$250. The price mainly depends on the hair's length, quality, and how many shortcuts a manufacturer takes.
| Difference | Closure Wigs | Frontal Wigs |
| --- | --- | --- |
| Size | 4×4, 5×5, and 6×6 | 13×4 and 13×6 |
| Versatility | Less versatile | More versatile |
| Cost | $40-$120 | $75-$250 |
Which is better a closure or frontal wig?
It all comes down to personal preference when deciding between a closure and a frontal wig. The two wigs are gorgeous and give you a decent look. Your budget and how frequently you're willing to change your hairstyle are two factors that may influence your decision. If you prefer a more versatile wig, a frontal is an excellent choice. If you're content with only a few hairstyles, you can save money by purchasing a closure wig. You can't really go wrong either way. After all, only they're installed and maintained correctly. Both options are great for protecting your natural hair from potential heat damage and breakage.
---
Do you have any questions? Please do not hesitate to contact us! Do you have any suggestions? Please do not hesitate to give us! Do you want to experience real high-quality hair? Now is the time to order our samples or bundles!
WhatsApp: +86 135 3369 3283
Email: cristina@bossique.com
Facebook: https://www.facebook.com/bossique