Hair color 1b? 1b hair and the best alternatives
Cristina
Last Updated on September 17, 2022 by Cristina
There are various hair colors and types when we select hair. Do you want to dye your hair black? Or perhaps you are searching for beautiful extensions or even a wig that will capture the rich hue you desire. It's best to understand the differences between the colors. Hair color 1b is often a natural color, meaning that it's higher quality than color 1 and 2. But that doesn't mean that 1b hair is always the best option.

What hair color is 1b?
You'll often find hair extensions in two shades of black. 1B hair, or off-black hair, is a softer shade of black and is the most natural option for hair extensions. While people believe that "b" stands for black, the 1b hair color is actually a variation of 1 hair. Others are 1a and 1c. The hair of Chinese and Vietnamese girls is naturally close to a 1b hair color. If the hair is much darker than a 1b hair shade, it's no longer natural and was dyed to achieve this color. Natural color hair will be easier to take color than dyed hair. There's one very simple test to find out whether your hair extensions are natural color.
What hair color is a 1?
Color 1, also called jet-black, is the darkest black shade hair extensions come in. My own hair is a darker shade of black compared to that of the average Chinese person, but still not as black as jet-black. Jet-black colors can only be achieved by dying hair, so your raw hair extensions should never come as jet-black. It isn't a natural hair color.
The quality below raw hair is processed floor hair. It's often marketed as virgin hair but is, in fact, hair from many donors, with each a slightly different shade of black. That's why it requires dying the hair to a dark shade of black to hide this impure color. It's one reason why your hair could be colored to jet-black.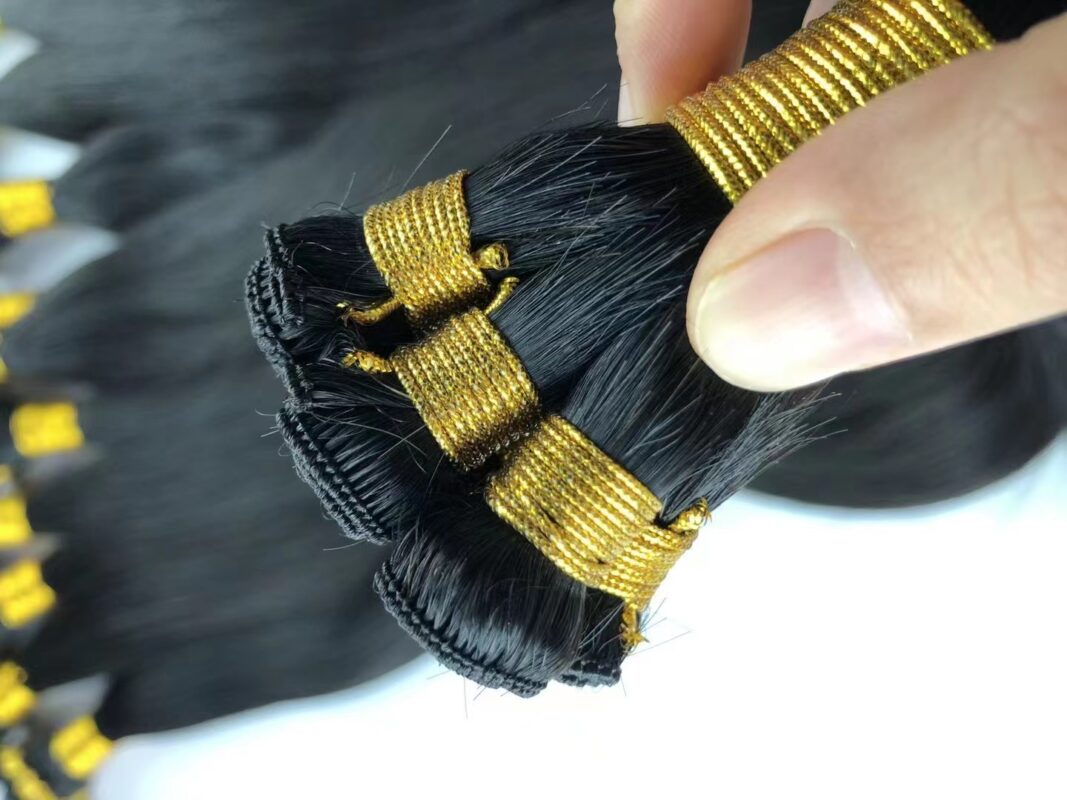 What hair color is 2?
Hair color 2 is a very dark shade of brown, and is 1 shade lighter than 1b. It looks black from afar, but up close, you can see that it's brown. It naturally occurs in Asian women, and especially Indian women lean more towards this shade.
However, we've experienced that hair naturally close to #2 is often the last stock to go. Processed hair, and some of the impurer raw hair are usually dyed to 1b or 1. People automatically associate these black shades with quality, and some of the color 2 hair as unnatural or impure. Many lace products get processed and dyed to some extent, even in the raw hair category. This makes it much easier to find a matching bundle and lace product for blacker hair, than it is for browner hair.
That said, natural color 2 hair is rare in China and Vietnam, and they're often dyed to these colors. Women from India have a slightly more mixed population, meaning that lighter colors and non-straight textures are more common.
Difference between hair color 1b and 2
The 1b and 2 hair colors look very similar, but they have some subtle differences. 1B is a shade of black, while 2 is a deep, dark brown. This makes 1b darker than 2. 1B human hair are often processed, while color 2 hair is often dyed.
Although this isn't always the case. Not many Chinese and Vietnamese women have natural color 2 hair. India is a melting pot of different ethnicities, and this allows Indian women to naturally have non-straight textures and dark shades of brown hair.
If you're wondering whether your hair extensions are natural color, you can use acetone to test for it. Natural color 2 hair will be easier to bleach and take color, than unnatural color 2 hair. Colored hair doesn't bleach and dye as easily as natural color hair. The differences between bleaching natural 1b hair color and natural 2 hair color are almost negligible.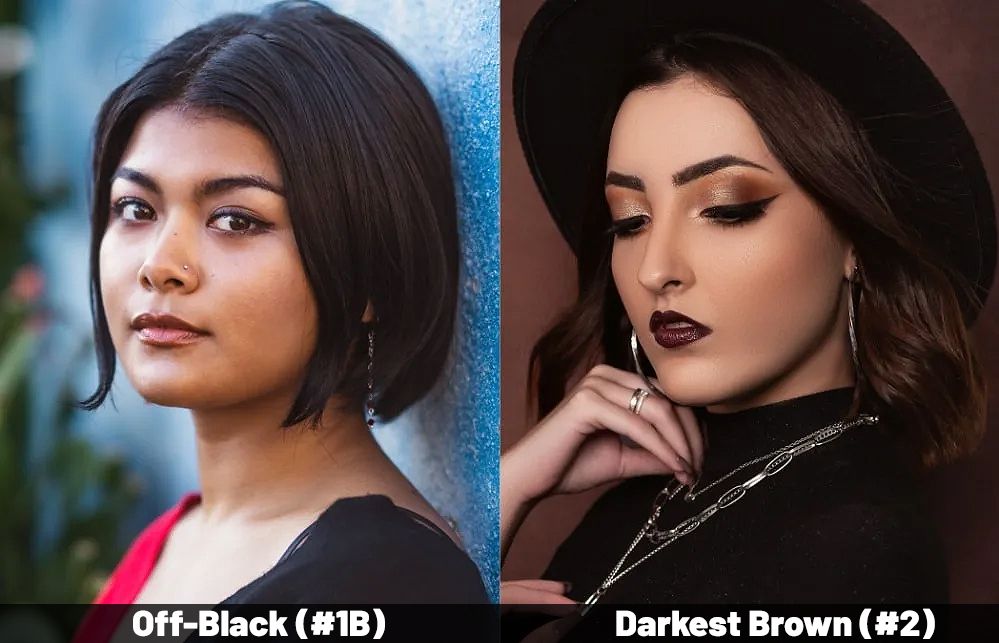 Differences between the 1 and 1b hair colors
They're both shades of black, but jet-black hair has cooler, blue undertones, while 1b has warmer, brown undertones. 1b hair color is generally a safer bet than jet black hair. Of course, that doesn't mean you can't take a risk and try a darker tone for a more dramatic look.
Color 1 hair can only be made by dying the hair to this color, and 1b hair is usually unprocessed. This means that for jet-black hair you'll be unlikely to find white or gray strands in your hair.
1b hair color is the most common type for hair extensions or dyes. Although salons and hair products can match an off-black shade more effectively, you might not find a perfect match every time.
Neither color is better since the right color will depend on a person's natural color and desired look.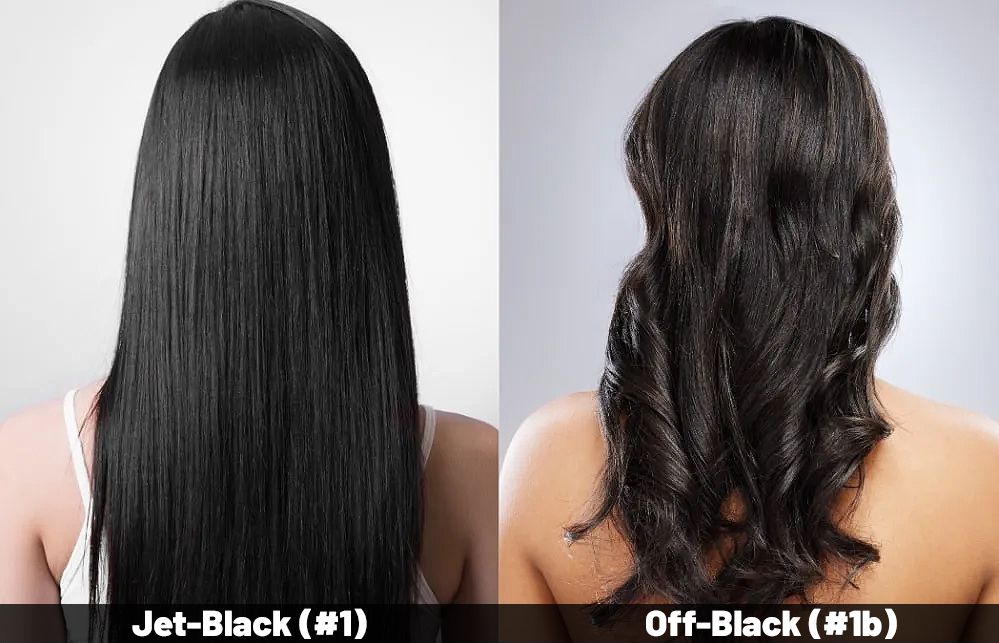 If you found our article interesting or useful, please share it with your friends who might benefit from this information. If you have any further questions, please don't hesitate to contact us through the comments, iMessage/WhatsApp: +86 135 3369 3283, cristina@bossique.com, or DM us at www.facebook.com/bossique.
Questions & Answers
Is the 1b hair color right for you?
Take your skin, hair and eye color into consideration. Usually, the darker your skin is, the more flattering dark shades of hair will be. Lighter complexions should stick with 1b or 2 hair. Although if you want a more dramatic look, you can disregard this rule. If your skin tone has warmer undertones, choose 1b or 2. If your skin has cooler undertones, color 1 will be a better match. Also take into consideration the color of your eyebrows or your own hair if you're going for a style with a leave out.
How do I care for 1b hair?
Just as with any other hair color, 1b hair needs to be taken care of for optimal health, strength and shine. Wash your hair every 2-3 days depending on how fast your hair gets oily, use a sulfate-free shampoo and use conditioner. Brush the hair daily with a wide-tooth comb to avoid unnecessary tangles and knots.
Which hair is darker, 1 or 1b?
Color 1 is the darkest hair color, and is also called jet-black. It's blacker than natural color hair, giving a less natural look than 1b hair. However, it can still be used to create a more daring dramatic look, if that's what you're aiming for.
Is jet-black hair a natural color?
No, jet-black hair isn't a natural color for humans and can only be achieved by coloring hair. The hair on my head is blacker than that of most Asian women, but is still lighter than jet-black.